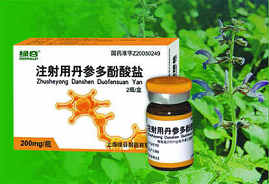 After a long period of strict professional assessment, Injection of Depsides Salt from Salvia miltiorrhiza, a modernized Chinese medicine against coronary heart disease and angina pectoris was included in the "National Essential Medicine List for medical insurance, industrial injury insurance and maternity insurance, (2009 edition)" by Ministry of Human Resources and Social Security of P.R.C recently.
  The drug was developed from Danshen(Salvia miltiorrhiza), a Traditional Chinese Medicine(TCM) used to treat heart disease in China. Scientists of Shanghai Institute of Materia Medica (SIMM) spent 13 years' research efforts on developing and optimizing Danshen(TCM) in a modern way. In 2005, it was granted a new drug licence and permission for production by State Food and Drug Administration. The joint venture Shanghai Green Valley Pharmaceutical Co. Ltd produced and launched the drug on the market in the same year. The drug has the authorization of domestic and US patents.
  With the advantages of lower price, higher security and better quality control characteristics, Depsides salt injection from Salvia miltiorrhiza provides a better choice for doctors and patients. Recently, a 3-year,2500-case phase Ⅳclinical trial has just been fulfilled in the hospital. The results show that the drug has better treatment effects and fewer side effects than the traditional Danshen preparation. Sales of the drug in 2009 reached 120 million RMB in Chinese market.