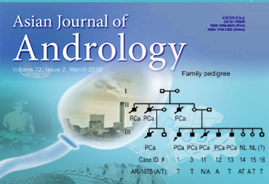 On Feb 22, 2010, Asian Journal of Andrology published an original paper on a novel genetic mutation of prostate cancer in Blacks, which is press released by more than 30 news agencies including Science News.
The original article is entitled "Identification of a novel germline missense mutation of the androgen receptor in African American men with familial prostate cancer". In this paper, Professor Shahriar Koochekpour and his colleagues identified a germline AR-A1675T substitution mutation in the DNA-binding domain in three affected members of an African-American family with a history of early-onset prostate cancer. This finding may represent a potential genetic biomarker for predisposition to familial prostate cancer in African-American men. The results of this study combined with future large-scale genome-wide association or expression array analyses may determine the genetic profiles that confer population-attributable disease risk or aggressiveness for prostate cancer.
Right after the press release of this novel finding at the Nature News Wire, it aroused global attention and intense discussion. HealthDay News, a worldwide Health Media, firstly highlighted this report and forecasted that the finding may explain higher incidence among blacks than whites on Feb 22. Immediately, more than 30 global Health Information networks reproduced this report, such asScience News, Summit Health Group News; Meriter Health Services News, NIH MedlinePlus, Rocket News, HealthScout News, Health News U.S., Yahoo News and even BusinessWeek.
For the full text of the research paper, please visit http://www.nature.com/aja/journal/vaop/ncurrent/full/aja20105a.html. We would be glad to have your comment on this paper and welcome to submit commentary to Asian Journal of Andrology.
                    (News resource: Asian Journal of Andrology Editorial Office)
Full text:http://www.nature.com/aja/journal/vaop/ncurrent/full/aja20105a.html
Author contacts:Shahriar Koochekpour (Louisiana State University, New Orleans, LA, USA)
Tel: +1 504 568 7261; E-mail: skooch@lsuhsc.edu
Editorial contacts:Qin-Zhu Zheng (Asian Journal of Andrology, Shanghai, China) Tel: +86 21 5492 2824; E-mail: aja@sibs.ac.cn
Media contacts: Ruth Francis (Head of Press, Nature London) Tel: +44 20 7843 4562; E-mail: r.francis@nature.com