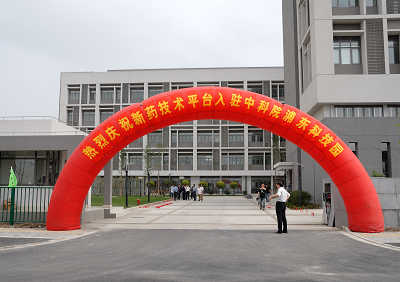 Drug Discovery & Development Platform launched pratice(photo by SIMM)
On June 21st 2010, as the first R & D platform, Drug Discovery & Development Platform is officially launched for practice in the Shanghai Pudong Science and Technology Park (CAS). Professor DING Jian, General Director of Shanghai Institute of Materia Medica(SIMM), together with Professors CHENG Jianjun and Deputy Director YE Yang greeted the arrival of the first group of researchers at the main entrance of new campus.
The new campus is located in the east of Science Park. Through 17 months of efforts, SIMM completed the construction on schedule and passed the construction validation successfully from local authority then stepped into operation.
The following platforms of SIMM will be successively relocated into the new campus: Center for Drug Safety Evaluation and Research, Research Center for Modernization of Chinese Medicine (National Engineering Laboratory for the Standardization of TCM Technology), Center for Drug Delivery Research, Center for Drug Metabolism and Pharmacokinetics Research, Center for Drug Efficacy Evaluation, Center for Compound Preparation, and Experimental Vivarium.
The commencement of the Drug Discovery & Development Platforms opens up a new chapter of SIMM's history in new drug research and development. The main function of new platform is to provide comprehensive technical supports not only for research programs of CAS institutes, but also for local governmental organizations and pharmaceutical industries. It plays an important role in SIMM's future development, and is a key part of the national project "Key Technologies for New Drug Innovation and Development". Some platforms will operate under the international GLP standards.
The Drug Discovery & Development Platform will contribute to original technology innovation and benefit drug research scientists at different units of China profoundly.
(Source: Administration Office)