The mid-term evaluation meeting of National Program on Key Basic Research Project (973 program)entitled "the structural and functional research of ion channel and membrane transporter protein" was held in SIMM on July 29th 2014. The aim of this meeting was to report and evaluate process of each sub-project, adjust and optimize subject, funding and personnel setting in next few years, meanwhile, further definite research plan and goal.
Chief scientist professor Huaqiang Xu, the president of this meeting, gave an overview on background, goal, subject setting, and research process of this project. Then, each principal of sub-project shared research process respectively. Based on their reports, expert panel discussed and evaluated this project, and have come to a positive conclusion. All of the four sub-projects were regarded as "excellent". Expert panel was impressed by some publications with high IF, and gave some precious suggestions and advices on cooperation between each sub-project in the future to ensure the successful completion of the follow-up plans.
Project specialist professors Yigong Shi, Dequan Ye and Donghai Wu of Ministry of Science and Technology of China (MSTC) and other experts in this research field including professors Jianping Ding, Ning Yan and Rongguang Zhang attended this meeting. Other participants were director Qingping Zhu of MSTC, Director Yi Shen of Bureau of Frontier Sciences and Education CAS, director GuoqingFu of Shanghai Municipal Science and Technology Commission, director Hualiang Jiang, and vice-directorJia Li of SIMM.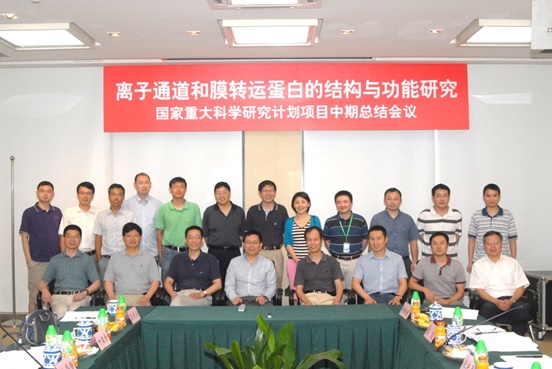 (Image by SIMM)
(Source: Professor H Eric.Xu's group)