The 2015 Queenstown Molecular Biology (Shanghai) Meetings, organized by the National Center for Drug Screening, the Queenstown Molecular Biology Meeting Society of New Zealand, National Institute of Parasitic Diseases (China CDC) and Shanghai Pudong Engineers Association, were held in Zhangjiang between March 19 and 20, 2015. The main theme of this event is "Drug Discovery and Technological Frontiers" which was concurrent with the 7th National Forum on New Technologies in Drug Discovery and the 4th Meeting of Chinese Network for Drugs and Diagnostics Innovation.
Among the sponsors are the National Health and Family Planning Commission, Ministry of Sciences and Technology, Chinese Academy of Sciences, Shanghai Institute of Materia Medica, Novo Nordisk A/S of Denmark, Maurice Wilkins Center of New Zealand, the Chinese National Compound Library, the Special Programme for Research and Training in Tropical Diseases (UNICEF-UNDP-World Bank-WHO), Shanghai Municipal Tourism Administration, Shanghai Pudong Association for Science and Technology, Zhangjiang High-Tech Park, Pudong Bioindustry Association, Asian Chemical Biology Initiative, iHuman Institute of ShanghaiTech University, Chinese Network for Drugs and Diagnostics Innovation, Trends in Pharmacological Sciences、Biochemical Journal、Pharmacologica Sinica, and twenty or so commercial companies. Over 400 scientists, entrepreneurs, managers and graduates from 15 different countries and regions across the world attended the meetings, including a handful of internationally renowned researchers. The meetings were jointly chaired by Drs. Ming-Wei Wang (Director of the National Center for Drug Screening) and Peter Shepherd (Deputy Director of Maurice Wilkins Center of New Zealand). Sixty-six invited speakers from 14 countries and regions made presentations covering a variety of areas in drug discovery. Nine representatives of international or domestic instrument/reagent/consumable vendors introduced various hot topics in life sciences, ranging from new trends, new strategies, new technologies, to new methods, new tools and new instruments. Ten young investigators from different parts of China presented their work and four of them won the travel grants sponsored by Trends in Pharmacological Sciences.
Queenstown Molecular Biology Meetings are a well-known international forum with a history of 24 years, which have attracted the attendance of numerous scientists, students and entrepreneurs. This is the third time to hold such a prestigious event outside of New Zealand, following a successful launching in Shanghai in 2013.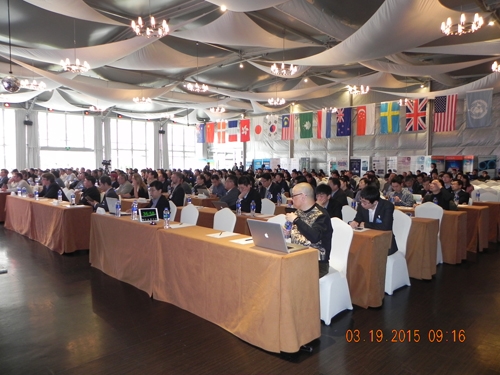 Scene of the conference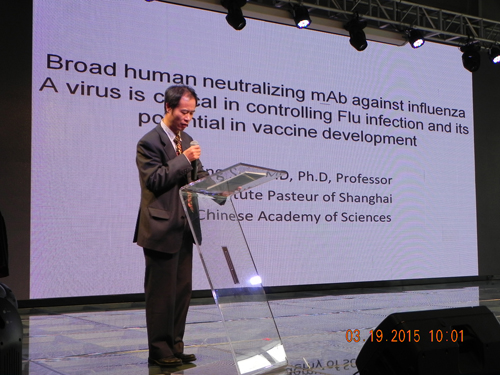 Director general JIANG Hualiang making a presentation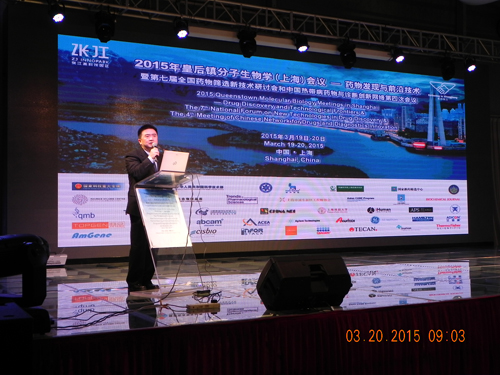 Deputy director LI Jia making a presentation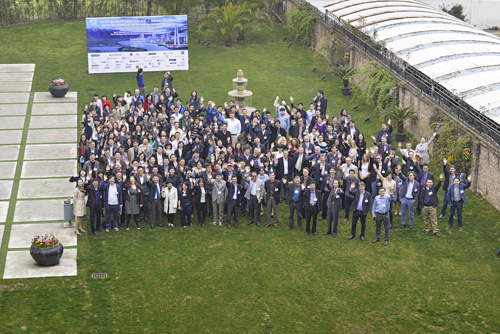 All the staff of the group photo