This year marks the 130th anniversary of the birth of Prof. Zhao Chenggu, the founder and the first director general of SIMM. His granddaughter, Ms. Zhao Zirong, paid a visit to SIMM from USA on 18 June 2015, for the sake of commemorating her grandfather.
Prof. Jiang Hualiang, current director general of SIMM, had a close communication with Ms. Zhao Zirong. During the meeting, Prof. Jiang told Ms. Zhao some amazing real life stories and great academic achievements of her grandfather. Prof. Jiang also cherished the unique contribution of Prof. ZHAO Chenggu for the establishment of SIMM, and he gave a detailed introduction about the development of SIMM over the past years.
Ms. Zhao was very impressed by and delighted with the growth of SIMM. Subsequently, she visited the SIMM History Exhibition Hall and labs located on Zuchongzhi Road Campus.
2015 is also the 60th anniversary of the founding of the Academic Divisions of the Chinese Academy of Sciences (CAS), one of the three key divisions of the organization. During the celebrations, a series of seminars will be organized by SIMM to commemorate the 130th anniversary of the birth of Prof. Zhao Chenggu. And many other activities will be held regularly in his honor, such as, analyzing relevant historical data, interviewing scientists of the older generation, editing the corpus of Zhao Chenggu' work and so on.
The spirit of the older generation of scientists always encourages and urges new generation to move on. Sprit of drug innovation never dies.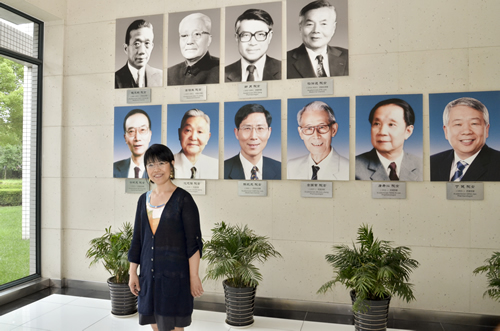 Ms. Zhao Zirong