The Protein Society, the premiere international society dedicated to supporting protein research, announces the winners of The 2016 Protein Society Awards. The awards will be conferred at the 30th Anniversary Symposium of The Protein Society (July 16-19, 2016, Baltimore, Maryland USA).Plenary talks from each recipient are scheduled throughout the 3.5 day event.
The Hans Neurath Award
The Hans Neurath Award, sponsored by The Neurath Foundation, seeks to honor individuals who have made a recent contribution of exceptional merit to basic protein research.
In 2016, the Hans Neurath winner is Dr.H.Eric Xu .Dr.Xu established and served as the distinguished Director of the VARI-SIMM Center for Drug Discovery at Shanghai Institute of Materia (SIMM) of Chinese Academy of Sciences. Research in his group has previously been supported by four NIH R01 grants, one Senior Investigator Award from American Asthma Foundation, and one past DOD prostate cancer idea development award, which cover structures and drug discovery of nuclear hormone receptors, hepatocyte growth factor and its receptor Met tyrosine kinase, G-protein coupled receptors, and plant hormones. Two of his research papers on plant hormones were selected as top 10 breakthroughs by Science in 2009 and by Chinese Academy of Sciences in 2014,and his recent X-ray laser structure of the first GPCR-arrestin complex was also selected as a top 10 breakthrough by Chinese Academy of Sciences in 2016.
Related News: http://www.vai.org/press-release-3-8-2016/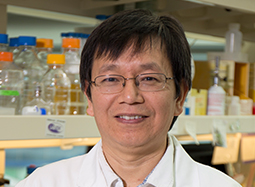 2016 Hans Neurath Award Winner
Professor H.Eric Xu
(Source FromThe Protein Society)