The signing ceremony of FDU (Fudan University)-SIMM(Shanghai Institute of Materia Medica, Chinese Academy of Sciences) strategic cooperation agreement was held in the Pharmacy School of Fudan University on June 8, 2016.
JIANG Hualiang, director general of SIMM and GUI Yonghao, vice president of FDU signed the agreement on behalf of the two parties. Over hundred honored guests attended and witnessed the signing ceremony.
Twelve cooperation aspects were included, such as sharing resource of faculty, education, research and information, exploring the mechanism of dual-employing and promotion, joint training of undergraduate students, and achievement transformation, etc.
SIMM director general JIANG Hualiang reviewed the two organizations' decades of cooperation history in research and education. Jiang said that SIMM and FDU will take this opportunity starting the cooperation through joint establishing "Elite Classes" and "Drug Discover and Develop Innovation Platform".
FDU president and academician XU Ningsheng said that many consensuses were achieved in various aspects. And the two organizations will promote research and development of innovative drugs through a complementary and cooperative way, turning FDU into a world-class comprehensive university and SIMM into a leading institute for innovative drug research.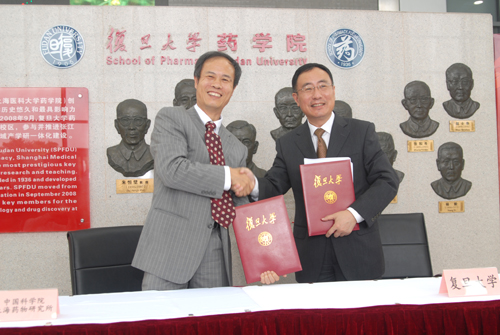 SIMM and FDU signing the cooperation agreement (photo by SIMM)