The delegation headed by Dr. HE Min, dean of Dept. of Graduate Education, from Shanghai Institute of Materia Medica (SIMM), CAS attended the Second Workshop on the Special Programme for Research and Training in Tropical Diseases (TDR) Postgraduate Training Scheme in the period of Jun 1-3, 2017. This is the first time that SIMM staff attended workshops on postgraduate education, invited by World Health Organization.

TDR launched the scheme in 2015 to support 7 universities from low- and middle-income countries to provide PhD and Master's degrees focused on implementation research in malaria, TB and neglected tropical diseases to improve health in those regions. The workshop reviewed the progress and planned for the next round of intake of PhD and Master's training.

SIMM delegation discussed the training scheme with TDR officers and representatives from 7 universities and introduced the "International Master Program in Pharmaceutical Science" of UCAS-SIMM. SIMM established relationships with seven universities from Bangladesh, Colombia, Ghana, Indonesia, Lebanon, South Africa and Zambia through attending the workshop. Most representatives from these universities intended to recommend students to apply SIMM's graduate program.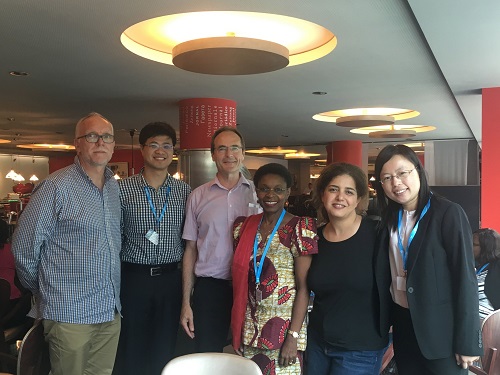 Group photo with TDR officals (Image courtesy of Elisabetta Dessi)
SIMM delegation and Tedros Adhanom Ghebreyesus,the current director general of WHO
(Image by Najoua Kachouri)