The 15th Shanghai Science and Technology Elite Award was announced on September 25th, 2018. Academician YUE Jianmin from the Shanghai Institute of Materia Medica(SIMM), Chinese Academy of Sciences (CAS), won the award of 2018 Shanghai Science and Technology Elite .
Prof. YUE is a PhD supervisor and department director of SIMMCAS. He was elected as a CAS member in November 2017. He is mainly engaged in the discovery of structural characterization of novel bioactive constituents from natural sources. He has published 253 papers in both domestic and abroad leading journals and has been granted 8 patents. Prof. YUE has won the second prize of the National Natural Science, the first prize of Shanghai Natural Science, the Wu Jieping-Paul Yangsen Medical Pharmacy Award, and so on.
In the long-term research work, Prof. YUE has completed the chemical and biological activity research on 156 important medicinal plants, and obtained more than 3,000 natural compounds with diverse structures, including approximately 800 new compounds and more than 70 new skeleton compounds (including skeletons rearrangement, degradation, expansion, etc.).
Among them, there are 30 novel compounds have been selected as research hotspots by Natural Product Reports, and 12 lead compounds as well as 3 candidate compounds are currently involved in preclinical studies.
The Shanghai Science and Technology Elite Awards is as one of the plans on developing high-level innovative science and technology talent, according to the "Shanghai Medium and Long-Term Talent Development Plan (2010-2020)", which is published by the Municipal Party Committee and the Municipal Government.
The Shanghai Science and Technology Elite Award was set up in 1989. It is awarded once every two years, aiming to "respect knowledge and talents, recognize and reward young and middle-aged science and technology workers" in this city who have made outstanding contribution to promoting scientific and technological progress and social economic development.
Over the past 20 years, the award has formed and improved a mechanism for discovering, supporting and recommendation leading talents and young and middle-aged first-class talents in science and technology field.
So far, there are five SIMM professors, namely, CHEN Kaixian, JIANG Hualiang, DING Jian, GENG Meiyu and YUE Jianmin, have received this award.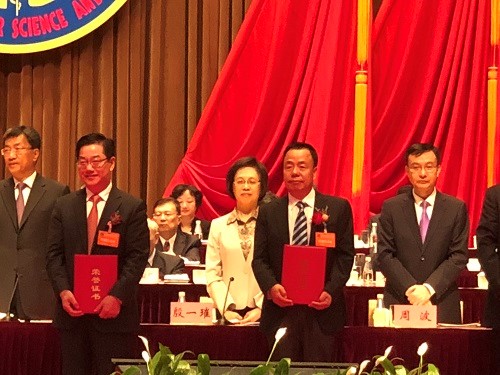 Academician YUE Jianmin (second from right) wins Shanghai Science and Technology Elite Award
(Credit: MAO Qionglei)