Asthma is a common chronic inflammatory disease that affects about 8% of the global population, and glucocorticoids (GCs) are the most commonly used anti-inflammation agents.
However, the clinical application of inhaled GCs still encounters two major obstacles (steroid-resistance and side effects).
In a study published online in PNAS, research teams from the Shanghai Institute of Materia Medica (SIMM) of Chinese Academy of Sciences, Harbin Institute of Technology and Cleveland Clinic Foundation have found a highly potent glucocorticoid (VSG158) for the treatment of the steroid-resistant severe asthma.
The highly potent glucocorticoids can deliver much greater efficacy, as well as quickly and maximally suppress the inflammation response in the lung to prevent an asthma attack.
In a previous study, the original backbone of highly potent glucocorticoids was found. The compound VSGC12 showed a higher potency in a mouse asthma model than other reported compounds.
In the current study, scientists have discovered a highly potent compound VSG158 in the murine model of asthma. VSG158 is ten times more potent than the previous most successful glucocorticoid (Fluticasone Furoate, FF) for asthma treatment.
It does not elicit major side effects of GCs at the effective dose. Injected at 0.0125 mg/kg, VSG158 diminished substantially inflammatory cell infiltration in the broncho alveolar lavage (BAL) and lung accumulation of effector CD4 cells expressing inflammatory cytokines, while dexamethasone (2.5 mg/kg) and FF (0.125 mg/kg) failed.
Acceptable PK properties and a favorable lung/circulation distribution after intranasal delivery suggested that VSG158 is a potent candidate for treating steroid-resistant severe asthma.
This work was supported by Chinese Academy of Sciences, the National Natural Science Foundation of China, NIDDK/NIH, American Asthma Foundation and the Van Andel Research Institute.
Full text link: https://www.pnas.org/content/116/14/6932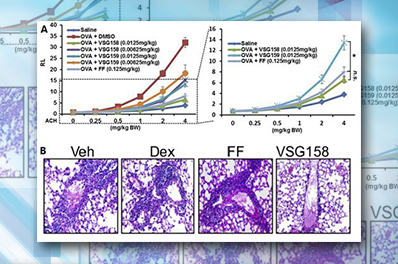 (A) the treatment effect of GCs via the intranasal delivery method in a mouse asthma model. (B) Lung histopathologic in the steroid-refractory inflammation model. (Image by SHI Jingjing)
Contact:
Eric H. Xu (Email: eric.xu@simm.ac.cn)
(Credit: SHI Jingjing; Editor: PAN Peihua)