On March 15, 2021, Phase I clinical trial of anti-SARS-CoV-2 drug candidate DC402234 (FB2001) mainly developed by a research team at the Shanghai Institute of Materia Medica of Chinese Academy of Sciences (SIMM) was initiated at the Frontage Phase I Research Center in the United States.
DC402234, a peptidomimetic compound, was designed and synthesized through analyzing the crystal structure of the coronaviruses Mpro. The researchers found that DC402234 exhibited effective inhibitory activity against SARS-CoV-2 Mpro with IC50 values of 0.053 ± 0.005 μM, and vibrant anti-SARS-CoV-2-infection activity in cell culture (EC50 values of 0.42 ± 0.08 μM). Furthermore, DC402234 also showed good pharmacokinetic properties and safety in vivo.
The drug candidate DC402234 enjoys China's proprietary intellectual property rights. After being licensed to Frontier Biotechnologies Inc. (Nanjing), the drug candidate completed a systematic preclinical study, and was submitted to the Chinese NMPA and the U.S. FDA for clinical trials in July, 2020. Since March 15, 2021, Prof Gregory Tarcey, the main investigator of DC402234 from the Frontage Phase I Research Center, has carried out the Phase I clinical trial in the United States.
The study was led by Professors LIU Hong, XU Yechun and JIANG Hualiang's teams from SIMM, together with Professors YANG Haitao, RAO Zihe's team from Shanghai Institute for Advanced Immunochemical Studies of ShanghaiTech University, and Professors ZHANG Lei-Ke, XIAO Gengfu's team from Wuhan Institute of Virology of CAS. The research of DC402234 was published as cover research paper online in Science in June, 2020.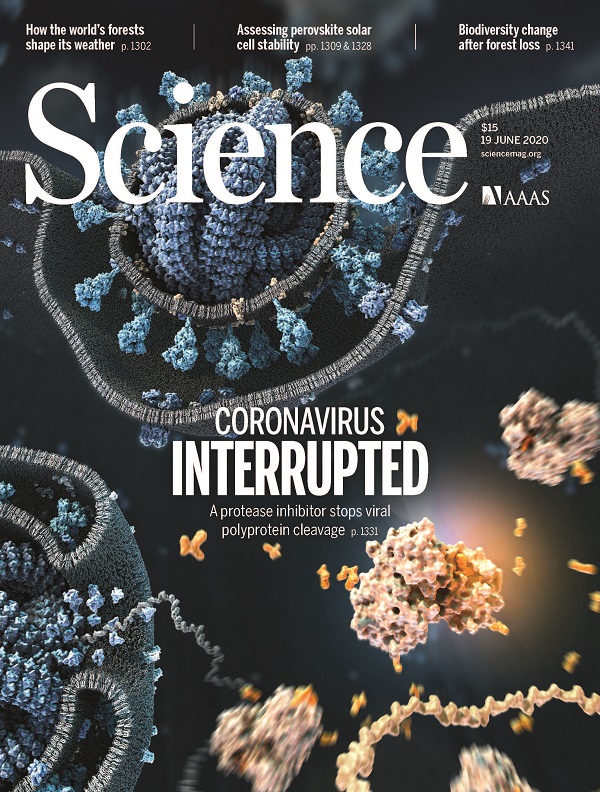 cover research paper of Science (2020, 368, 1331-1335) (image by Science)
The effective anti-SARS-CoV-2 in vitro activity of DC402234 will bring more research prospects. It is still a long way to go from entering the human clinical trial stage to the final application and marketing of DC402234 as a new drug in the future.
DOI: 10.1126/science.abb4489
Link to article: https://science.sciencemag.org/content/368/6497/1331
Contact: diaowentong@simm.ac.cn