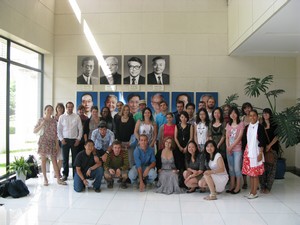 Swiss Graduate Students visits SIMM
On September 6, a delegation of 28 Graduate Students from École Polytechnique Fédérale de Lausanne,Swiss paid a visit to Shanghai Institute of Materia Medica(SIMM) to know more about the development of scientific research in China and the graduate education as well. During the visit, the graduate students from Swiss and SIMM exchange their ideas on choice of the major, campus life, career path, alumni outreach and etc. Swiss graduate students expressed great interests in graduate education of CAS.
The visit has definitely promoted the friendship between two institutions and may lead to the further collaboration in the near future.
(Source of News: Office for Graduate Education, Science and Technology Department)