Professor Hayashi from the university of Tohoku visited Shanghai Institute of Materia Medica and delivered an academic lecture titled 'Organocatalyst in Total Synthesis' on 30th October, at the invitation of Professor Hualiang Jiang, Ao Zhang, and Hong Liu. The lecture focused on the progress and challenges in using diarylprolinol silyl ether derivatives as catalyst to total synthesis of asymmetric bioactive compounds, such as antiviral drug (-)-oseltamivir (trade name Tamiflu) and DPP IV inhibitor ABT-341. Professor Hayashi applied his new method to the total synthesis of neuraminidase inhibitor (-)-oseltamivir in single pot and high-yield (total yield > 60%) as well as high enantioselectivity (ee > 99%)(Angew. Chem. Int. Ed. 2009, 48, 1034.和Chem. Eur. J. 2010, 16, 12616.).
The lecture intrigued a heat discussion between professor Hayashi and the attendees. Hayashi also expressed his willingness to cooperate with SIMM after the lecture.
Yujiro Hayashi is a professor of Chemistry at the University of Tohoku. His research interest mainly focuses on the development of new synthetic methods using organocatalysis and asymmetric total synthesis of biologically active natural products.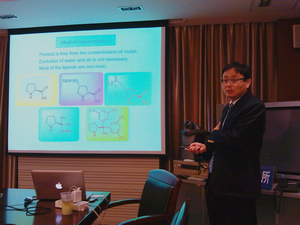 (Source: Professor Hong Liu' group)