2013 international symposium on Chemical Glycobiology was held at Parkyard Hotel in Shangahi from June 29 to July 1, 2013. The host organization of the meeting is Consortium for Functional Glycomics (CFG), USA and Shangahi Institute of Meteria Medica (SIMM), Chinese Academy of Sciences (CAS). The latter undertake the meeting.
The former director, Prof. James C, Paulson and the current director of CFG, Prof. Richard Cummings, Chinese Academician, Prof. ZHANG Lina, two deputy directors of SIMM, Prof. GENG Meiyu, and Prof. YE Yang and President of Shanghai Pudong Association for Science and Technology, Ding Haitao attended the meeting and make the speeches at the opening ceremony. More than 240 scientists from 16 countries and districts participated in the meeting. 20 top experts in glycoscience field and 20 outstanding young scientists presented their most recent research results .
The theme of meeting included synthesis of carbohydrate with biological function, carbohydrate microchips and interaction between carbohydrate and functional protein. The meeting demonstrated the frontier of glycoscience research, discussed the synthesis of bioactive carbohydrate and analytical method of interaction between protein and carbohydrate, emphasized the microchip technique and its application in the study of the biological function of the interaction between the protein and carbohydrate.
This is the first time for the local organizer to co-organize such symposium with CFG in China. Important collaboration intentions are reached. It also provided the communication platform for the glycoscientists, built up the bridge between Chinese and world-wide scientists and expedite the development of glycoscience in China.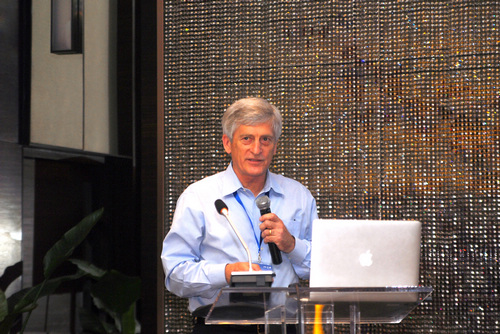 Director of CFG, Prof. Richard Cummings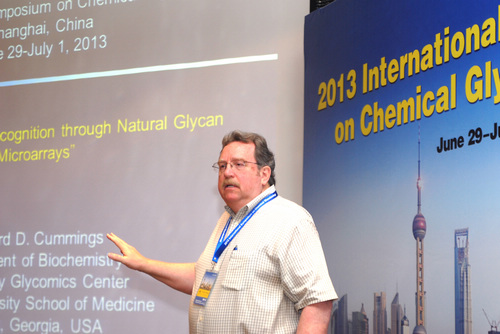 The former director, Prof. James C, Paulson
Chinese Academician, Prof. ZHANG Lina
Scientist of SIMM, Prof.DING Kan(All images by SIMM )