On June 8, a group of seven members including the president from University of Macau, Professor Zhao Wei, the dean from Institute of Chinese Medical Sciences, Professor Wang Yitao, and the vice dean, Professor Li Mingyuan visited Shanghai Institute of Materia Medica (SIMM). They received warm reception from the director, Academician Ding Jian.
SIMM and University of Macau signed agreements concerning innovative traditional Chinese medicine research. They will jointly launch the research of screening and development for traditional Chinese medicine. The agreements were also devoted to facilitate the exchange visits of scientists and training program of graduates, which laid the foundation for further academic exchange.
Accompanied by Director Ding Jian, President Zhao Wei visited the Drug Discovery and Design Center, the National Center for Drug Screening, and the Chinese National Compound Library. During the visit, the director introduced the history of SIMM, research achievements and international cooperation to the president.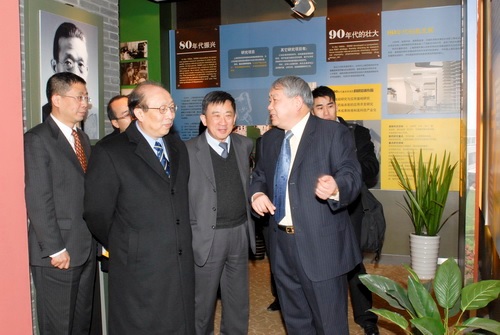 The president from University of Macau visiting the showroom of SIMM(Image by SIMM)