Within the framework of President Shavkat Mirziyoyev's visit to the People's Republic of China, Uzbekistan and PRC discussed the creation of a joint medical technology park for the synthesis of medicinal substances.
The Minister of Innovation Development of Uzbekistan, academician Ibrokhim Abdurakhmonov, and the project head of the Shanghai Institute of Materia Medica (SIMM) at the Chinese Academy of Sciences, Professor Jingshan Shen, signed a letter of intent.
In accordance with the document, the parties agreed to create a large technological platform in Uzbekistan for the synthesis of substances of various drugs in cooperation with the Chinese consortium Topharman&Vigonvita&CADDDC-CAS, the Ministry's press service said.
"Until today, the main medicinal substances have been imported to Uzbekistan from abroad. That is why it is so important to establish production of the synthesis of substances in our country. Currently, the Institute of Bioorganic Chemistry and the Institute of Plant Chemistry at the Academy of Sciences have established a platform for the production of medicinal substances," Ibrokhim Abdurakhmonov noted.
Due to the fact that creation of the infrastructure necessary for the production of medicinal substances is one of the urgent tasks for development of the pharmaceutical industry, opening of this platform will serve to develop the sphere as a whole, create conditions to produce affordable import-substituting drugs and lead to an increase in exports, the Ministry reports.
The document envisages the creation of an Uzbek-Chinese medical technology park in the free industrial economic zone "Navoi" on the synthesis of medicinal substances. The amount of direct initial investment is currently being discussed.
As a result of realizing the agreements, a phased implementation of work on the synthesis of a number of medicinal substances is expected. The latest technologies in the field of chemistry and pharmaceuticals will be applied. (KUN.UZ)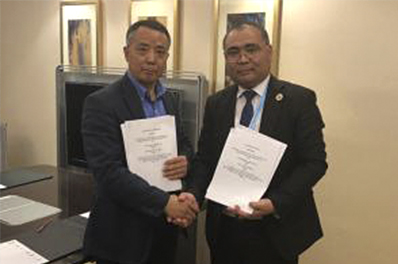 Left: Prof. Jinshan Shen; Right: The Minister of Innovation Development of Uzbekistan, academician Ibrokhim Abdurakhmonov
Original linker:
https://kun.uz/en/news/2019/04/25/uzbekistan-china-agree-to-create-a-joint-medical-technopark?from=timeline&isappinstalled=0
Contact:
PAN Peihua (pamph@simm.ac.cn)