The 2nd conference of Pan-Balkan Alliance of Natural Products and Drug Discovery Associations (PANDA) and Scientific Webinar on Combating COVID-19 were held in Yi Sheng Hall at Shanghai Institute of Materia Medica, Chinese Academy of Sciences on December 7th, 2020.
The conference was conducted online and offline through live webcast. Nearly 70 colleagues from 13 countries engaging in scientific research institutions, universities and enterprises in the fields of natural products and biomedicine attended the conference.
The conference included 9 scientific presentations, on the structure of the COVID-19 virus enzymes, high-throughput screening of small molecules against COVID-19, virus testing methods, the development of natural product-derived drugs against COVID-19, vaccine research progress, etc.. The council members shared points on COVID-19 scientific research progress among China and the Pan-Balkan countries. They also discussed how, in the "post-epidemic era", to deepen communication and cooperation in research of natural products and new drug R&D between China and the Pan-Balkans.
The PANDA was established in Shanghai on September 26th, 2019, and was selected as one of the members of the "Belt & Road" Alliance of International Science Organizations (ANSO) thematic alliances. With the strong support of ANSO, the PANDA based on ethnic medicine and natural product resources from China and the Pan-Balkans regions, has built an exchange and cooperation platform for scientists from scientific research units, universities and colleges and business unites of China and the Pan-Balkan regions in natural product research and new drug discovery. The PANDA aims at promoting intensive cooperation in academic communication, scientific research cooperation, talent training, and technology transfers among the alliance member countries. In the future, it will carry forward the joint development of natural product research and new drug discovery.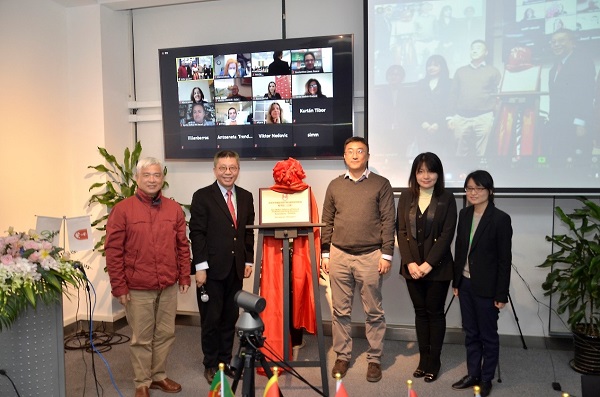 Group photo of participants