Honorable Chairman: Academician Prof. Jian Ding
Conference Chairmen: Prof. Yue-Wei Guo, Prof. De-An Guo, Prof. Orazio Taglialatela-Scafati
Executive Chairmen: Prof. Yue-Wei Guo, Prof. Hou-Wen Lin
Organizers: Shanghai Institute of Materia Medica, CAS
Renji Hospital Shanghai Jiaotong University School of Medecine
Shanghai Pharmaceutical Association-Marine Drug Professional Committee

Themes of the conference:
China and Italy are two renowned countries for their studies in the field of natural product chemistry, and their innovative discoveries have strong foundations in a thousand-year-old tradition. Promoted by recent achievement of successful collaborations between Shanghai Institute of Materia Medica and University of Naples Federico II, the first Sino-Italian Symposium on Bioactive Natural Products (SISBNP) has been proposed to be host in Shanghai, October 24, 2015. The aim of this meeting is to share ideas in the multi-faceted and rapidly developing fields of natural products and to strengthen the collaborations between China and Italy.

Submit your abstract before September 30. All participants are invited to submit abstracts (template attached) for poster or oral presentation (15 min) to the email address of the contacts within the main themes of the conference:
• Isolation and structural elucidation of natural products
• Bioactivity of natural products
• Possible industrial exploitations of natural products
• Synthetic approaches to natural products
Submitted abstracts will be peer-reviewed for their acceptance by the Organizing Committee. All scientists and students are welcome to attend the symposium without any registration fees.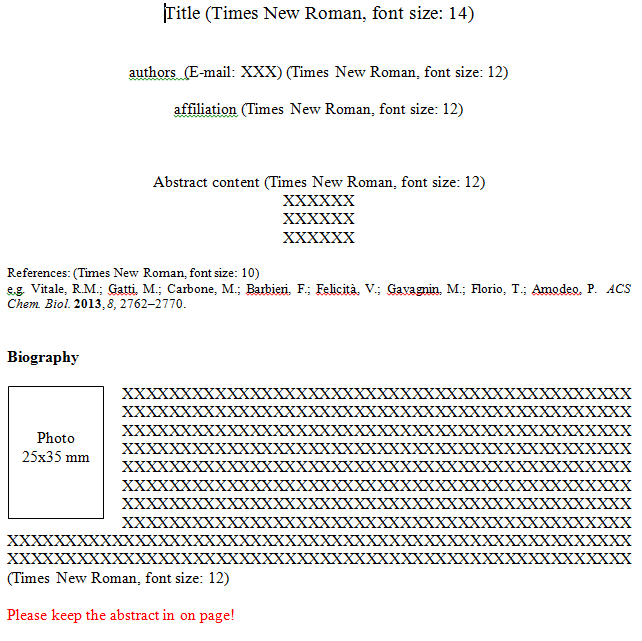 ---
Confirmed speakers:
China:
- Prof. Ren-Xiang Tan, Nanjing University
- Prof. Hou-Wen Lin, Shanghai Jiaotong University
- Prof. Hong-Bin Zhai, Lanzhou University
- Prof. Chang-Sheng Zhang, South China Sea Institute of Oceanology, CAS
- Prof. Wen Zhang, The Second Military Medical University
Italy:
- Prof. Orazio Taglialatela-Scafati, University of Naples Federico II
- Prof. Margherita Gavagnin, Institute of Biomolecular Chemistry - CNR
- Prof. Giovanni Appendino, University of Eastern Piedmont
- Prof. Martino Forino, University of Naples Federico II
- Prof. Nunziatina De Tommasi, University of Salerno
---
Website:
http://www.simm.cas.cn/
;
http://www.sh-yaoxue.com/
SISBNP 2015 Symposium contact information:
Contacts: Dr. Xu-Wen Li (
xwli@simm.ac.cn
), Dr. Bing-Nan Han (
hanbingnan@shsmu.edu.cn
)
Address: 1st Building, Shanghai Institute of Materia Medica. 555 Zu Chong Zhi Road, Shanghai