Novel DDRs Inhibitors Developed for Treating Idiopathic Pulmonary Fibrosis
Idiopathic pulmonary fibrosis (IPF) is a chronic, progressive, fibrotic interstitial lung disease associated with poor survival. At present, there are only two drugs used in IPF treatment: Nintedanib and Pirfenidone. They have limited effects on IPF treatment improving limted indexes of lung function. While discoidin domain receptors (DDRs) inhibitors could provide a different strategy for IPF treatment.
In a study recently published in Acta Pharmaceutica Sinica B, a team of researchers led by LI Jia and XIONG Bing from Shanghai Institute of Materia Medica of the Chinese Academy of Sciences developed a series of novel DDRs inhibitors with potent in vivo anti-fibrosis efficacy and low toxicity.
Based on the team's former discovery on DDRs inhibitors for treatment of lung squamous cell carcinoma, the researchers found that those compounds targeting many tyrosine kinases were not available to fibrosis-related diseases. Therefore, they launched chemical modifications to eliminate the unwanted kinase activities.
Through computer-aided drug design and application of isostere, the researchers developed compound 47 with potent DDRs inhibition and good selectivity against many other tumor-related kinases.
Compared with the listed drug Nintedanib, compound 47 showed notably better therapeutic effects and lower toxicity on lung fibrosis in preclinical animal model, which makes compound 47 a promising candidate for further drug development.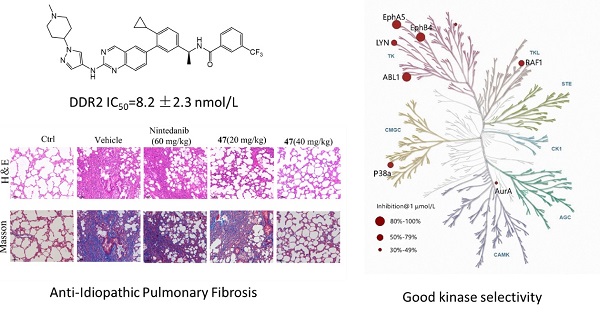 DOI: https://doi.org/10.1016/j.apsb.2021.11.012
Link:https://www.sciencedirect.com/science/article/pii/S2211383521004457?via%3Dihub
Contact:
DIAO Wentong
Shanghai Institute of Materia Medica, Chinese Academy of Sciences
E-mail: diaowentong@simm.ac.cn