Researchers Revealed Novel Lysine Modification-Lysine Acetoacetylation
Intracellular metabolites occupy a pivotal position in numerous metabolic pathways and play crucial roles in diverse cellular processes. As lipid metabolites, ketone bodies (including acetone, acetoacetic acid and beta-hydroxybutyric acid) are closely associated with a variety of pathophysiological processes. β-Hydroxybutyric acid has been identified as a precursor for lysine β-hydroxylbutyrylation (Kbhb), a post-translational modification (PTM) that has been reported to mediate transcriptional regulation. However, the potential role of another ketone body, acetoacetic acid, as a precursor for its corresponding protein PTM remains unknown.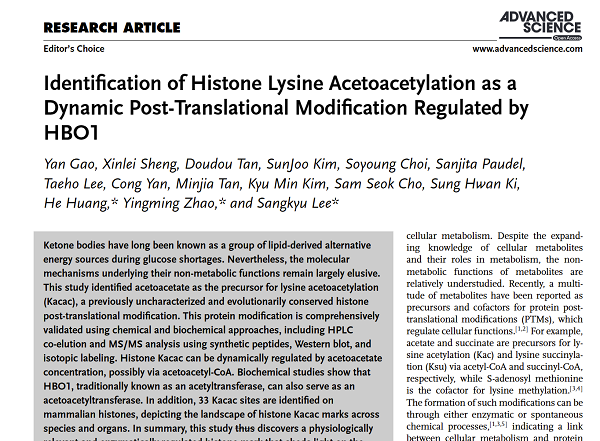 In a study published in Advanced Science, scientists from Institute of Materia Medica (SIMM) of the Chinese Academy of Sciences, The University of Chicago, Sungkyunkwan University and their colleagues collaboratively discovered a previously uncharacterized lysine modification, lysine acetoacetylation (Kacac). They identified Kacac as a dynamic post-translational modification regulated by HBO1.
In this study, the researchers demonstrated that the acyltransferase HBO1 could catalyze the enzymatic addition of ethyl acetoacetate to lysine, while HDAC3 enzymatically removed Kacac in vitro. In addition, the researchers performed proteomic screening to identify 33 Kacac sites on mammalian histones, mapping the landscape of histone Kacac markers on species and organs. Furthermore, they found that this modification can be dynamically regulated by treating cells with ethyl acetoacetate (EAA) and an antagonist of the ketogenesis pathway. These results indicated that metabolite acetoacetic regulated PTM could offer differential regulatory mechanism.
In conclusion, this study verified the regulation of Kacac by pharmacological target enzymes, expanded the list of protein substrates and regulatory pathways of Kacac, reflected the non-metabolic functions of ketone bodies, and laid a necessary foundation for further study of the role of Kacac in various physiological and pathological conditions.
Link: https://onlinelibrary.wiley.com/doi/epdf/10.1002/advs.202300032
Contact:
DIAO Wentong
Shanghai Institute of Materia Medica, Chinese Academy of Sciences
E-mail: diaowentong@simm.ac.cn