2018"Xin Guang Shan Yao" Graduate Student Annual Academic Conference Held at SIMM
The Shanghai Institute of Materia Medica, the Chinese Academy of Sciences (SIMMCAS) held the 2018 "Xin Guang Shan Yao" Graduate Stuent Annual Academic Conference on Oct. 17-19, 2018.
The Conference included two topics on "New mechanisms and new molecules research" as well as "New methods and new technologies research", which were divided into Chemistry parallel session and Biology parallel session, respectively. Compared with the previous annual conference, the participants doubled this year. There were 96 graduate students recommended by their mentors to attend the conference, among which 68 students were selected for oral presentations (including an international student and 9 joint training students), and 22 for posters.
After two days communication and discussion, a total of 24 students won the "Qijiang Scholarship" and honorary titles in different levels accordingly.
The awards were presented by Prof. GENG Meiyu, secretary of the Party Committee of SIMM, Prof. LI Jia, deputy director of SIMM, and Prof. DING Jian, academician of the Chinese Academy of Engineering.
The conference invited Prof. SUN Qiang, director of the Non-human Primate Facility of the Institute of Neuroscience of CAS, and Prof. YU Xuekui, principal investigator of SIMM, to deliver lectures, entitled "Non-human Primate Model Animal Construction - From Gene Editing to Somatic Cell Cloning" and "Cryo-electron Microscopy: A Revolutionary Method for Structural Biology", respectively.
In order to enhance the communications among member institutes from the Institutes of Drug Discovery and Development (IDDD) of CAS, 9 outstanding student representatives were invited from 8 IDDD member institutes, which were Kunming Institute of Botany, Kunming Institute of Zoology, Xinjiang Technical Institute of Physics and Chemistry, Lanzhou Institute of Chemical Physics, Chengdu Institute of Biology, Xishuangbanna Tropical Botanical Garden, Northwest Institute of Plateau Biology, and Guangzhou Institute of Biomedicine and Health, to give reports.
The "Qijian Scholarship" was funded by the "Qijian" Graduate Education Fund,which was established by Prof. DING Jian.
Prof. DING attended the award ceremony. He hoped that the academic conference would encourage graduate students to explore the science fields and create an innovative academic atmosphere in SIMM. Furthermore, Prof. DING expected that SIMM graduate students should cherish the learning in SIMM, which has been passed down for generations; and keep "Communication" in mind equipping themselves with learning skills. Last but not least, he emphasized that students should focus not only on majorsubjects, but also on multi-disciplinary knowledge, which is essential for new drug research and development.
The Conference organized by the Graduate Students' Union under the guidance of the Graduate Education Office. It is a characteristic academic activity of SIMM. The annual conference not only provided a platform for graduate students from both SIMM and IDDD member institutes of CAS to exchange academic ideas and share their scientific research achievements, but also created a good atmosphere for academic communications and promoted the construction of first-class disciplines in pharmacy.
List of winners:
First Prize of "Qijian Scholarship", entitled "Sparkling Star"
Parallel Session in Chemistry
LU Wenchao, doctor candidate enrolled in 2014; Mentor: Prof. CHEN kaixian
LU Heng, Joint training doctor candidate; Mentor: Prof. ZHANG Ao

Parallel Session in Biology
HE Shufang, doctor candidate enrolled in 2014; Mentor: Prof. GAN Yong
BI Aiwei, doctor candidate enrolled in 2015; Mentor: Prof. GENG Meiyu

Second Prize of "Qijian Scholarship", entitled "Shining Star"
Parallel Session in Chemistry
WANG Yibing, doctor candidate enrolled in 2014; Mentor: Prof. LIU Hong
GUAN Dongliang, doctor candidate enrolled in 2014; Mentor: Prof. HUANG Wei
LIU Xiaoyun, doctor candidate enrolled in 2015; Mentor: Prof. ZHONG Dafang
LIU Xiaohong, joint training doctor candidate; Mentor: Prof. CHEN Kaixian

Parallel Session in Biology
LI Jiahui, doctor candidate enrolled in 2014; Mentor: Prof. YANG Caiguang
WAN Wei, doctor candidate enrolled in 2014; Mentor: Prof. JIANG Hualiang
SUN Zhongya, Joint training doctor candidate; Mentor: Prof. LUO Cheng
ZHAI Yihui, master candidate enrolled in 2017; Mentor: Prof. LI Yaping

Third Prize of "Qijian Scholarship", entitled "Flashing Star"
Parallel Session in Chemistry
NIU Junxing, doctor candidate enrolled in 2014; Mentor: Prof. XUAN Lijiang
LI Meiqi, doctor candidate enrolled in 2014; Mentor: Prof. MEI Xuefeng
HUANG Fubao, doctor candidate enrolled in 2014; Mentor: Prof. SHEN Jianhua
HOU Xiangyu, doctor candidate enrolled in 2014; Mentor: Prof. CHEN Xiaoyan
PENG Runze, doctor candidate enrolled in 2015; Mentor: Prof. HU Youhong
CHEN Lu, doctor candidate enrolled in 2016; Mentor: Prof. YANG Weibo

Parallel Session in Biology
HONG Feng, doctor candidate enrolled in 2013; Mentor: Prof. FENG Linyin
SUO Na, doctor candidate enrolled in 2013; Mentor: Prof. XIE Xin
HOU Pengcong, doctor candidate enrolled in 2014; Mentor: Prof. GENG Meiyu
QIAO Anna, doctor candidate enrolled in 2014; Mentor: Prof. ZHAO Qiang
YANG Nana, doctor candidate enrolled in 2017; Mentor: Prof. LAN Lefu
TU Wanzhi, joint training doctor candidate; Mentor: Prof. XIE Xin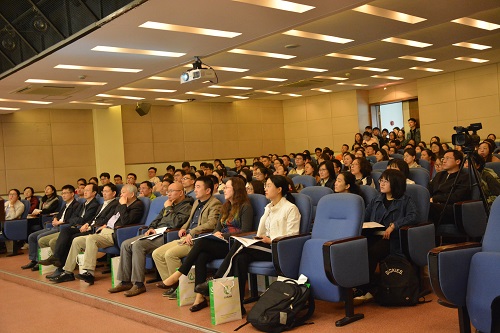 (Credit: LI Huihui)