Nuclear miR-30b-5p Suppresses TFEB-mediated Lysosomal Biogenesis and Autophagy
miR-30b-5p locates in the nucleus and could inhibit the binding of TFEB to the promoters of target genes.
miR-30b-5p suppresses the lysosomal biogenesis while knocking out miR-30b-5p promotes the lysosomal biogenesis significantly.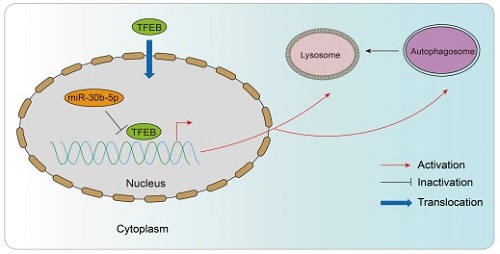 Schematic diagram showing that nuclear miR-30b-5p inhibits the transcriptional activity of TFEB by binding to its binding sites to suppress the autophagy–lysosomal process.
Contact:
Prof. REN Jin
Email: jren@cdser.simm.ac.cn

(Credit: TAO Zhouteng)