NMPA conditionally approves gumarontinib for treatment of non-small cell lung cancer with MET Exon 14 skipping mutation
Gumarontinib, an oral highly selective mesenchymal-epithelial transition (MET) inhibitor and a Category 1 innovative new chemical drug, for the treatment of adult patients with locally advanced or metastatic non-small cell lung cancer (NSCLC) with MET exon 14 skipping mutation got conditionally approval on March 8, 2023, by the National Medical Products Administration (NMPA) of China.
Gumarontinib was granted by NMPA as Breakthrough Therapy program and reviewed under Priority Review procedure.
Full approval for this indication may be contingent upon verification of clinical benefit in a confirmatory trial.
Gumarontinib is jointly developed by Shanghai Institute of Materia Medica (SIMM) of the Chinese Academy of Sciences and Haihe Biopharma Co., Ltd. It's a potent and highly selective small molecule MET inhibitor, exhibiting robust antitumor activity in tumor models with MET exon 14 skipping mutation.
Phase II clinical trial of the drug demonstrated that the confirmed overall objective response rate (ORR) per Blinded Independent Review Committee (BIRC) was 65.8%. The clinical trial also showed that the most common adverse reaction observed was edema. No potential phototoxicity or allergic reactions were observed in the trial, the safety risk for combination use is low due to few drug-drug interaction potential.
"Gumarontinib has a rapid onset of anti-tumor activity and it has compelling clinical efficacy and good tolerance in both the treatment-naive and previously treated NSCLC patients with MET exon 14 skipping mutation. On top of that, patients with brain metastases also have clear benefits. I believe that the approval of Gumarontinib may help more patients with advanced NSCLC patients with MET alterations," said Professor LU Shun from the Oncology Department of Shanghai Chest Hospital.
In 2022, Gumarontinib was granted Orphan Drug Designation (ODD) by the Food and Drug Administration (FDA) of Unites States for the treatment of NSCLC with MET genomic aberration. ODD is granted by the FDA to promote the development of drugs that target conditions affecting fewer than 200, 000 people in the U.S. With an orphan drug designation, Gumarontinib will be eligible for certain development incentives from the FDA and accelerate the global clinical development plan and New Drug Application (NDA).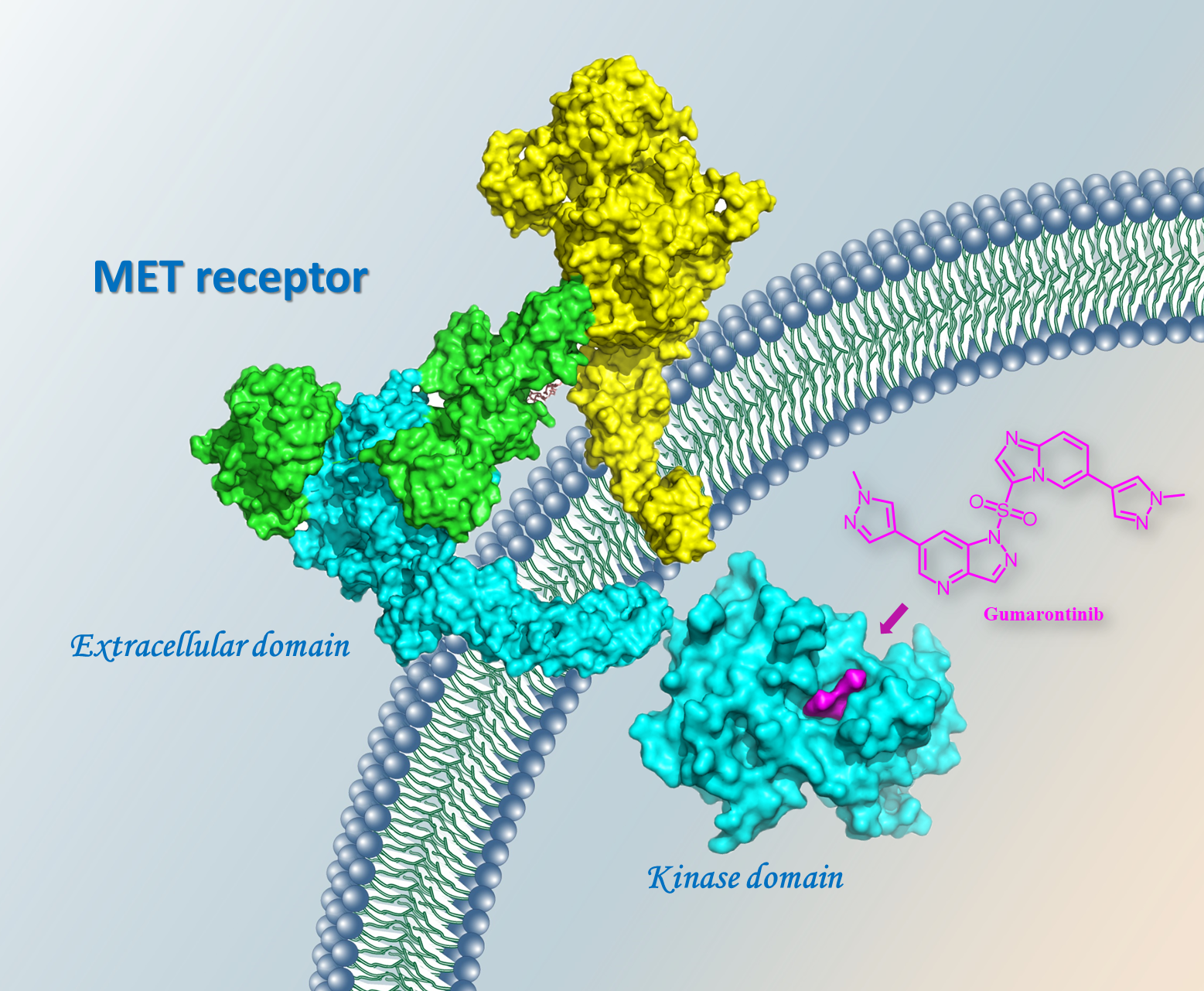 Gumarontinib binds to the ATP pocket of the kinase domain of the MET receptor (Image by SIMM)
Contact
DIAO Wentong
Shanghai Institute of Materia Medica, the Chinese Academy of Sciences
E-mail: diaowentong@simm.ac.cn